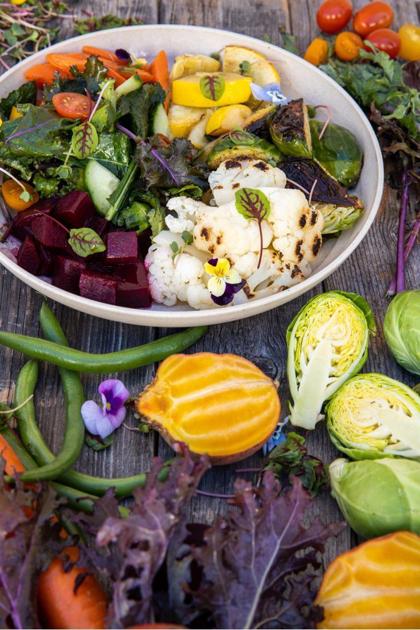 With the new year, many are finding the flow in creating healthy meals. But for Alan Ramirez, it doesn't take a change of the calendar, it's a way of life.
Ramirez, co-owner and executive chef of Sea Salt Healthy Kitchen on St. Simons Island, believes that in order to properly fuel the body, you have to utilize the best ingredients.
"First of all, I believe that food is medicine. It's one of the most important things that we can do for our bodies," he said. "Food can help heal the body but if you don't put the right nutrition into it, you won't get much out of it."
At Sea Salt, the menu consists of whole ingredients used in handcrafted dishes like their Rocket Beet salad and their Avocado Chicken BLT. They also have a number of vegetarian and vegan options, certainly a rarity in the South. But all of the items share a common trait — they are made from whole, fresh and unprocessed foods.
"It's really easy to eat healthy as long as you eat whole foods. That's the most important thing. It's not about dieting or anything like that … it's about getting good nutrition," he said.
"So you want to avoid anything that's highly processed or has a lot of sodium. Everything we use is locally sourced, organic and made in-house. I think it's important not to use things with pesticides to also not spoil the soil so that it can regenerate."
One of the restaurant's most popular items really brings all of those ideas together — the Wellbeing Bowl. The multi-ingredient dish allows customers the option of custom selecting grains, vegetables and proteins.
"You can choose the things you like … it's like picking sides — greens, grains and a protein," he said.
Sea Salt's options include red pepper hummus, kale, black beans, cauliflower, avocado, mushrooms, yellow squash and beets. They also have whole-grain brown rice and quinoa.
"You can add meat too, but I would say that you really don't need that much animal product. You can eat it in moderation — no more than say, five ounces per portion," he said. "You want to base your meal on the vegetables, and legumes. That's the main part of the dish."
While Sea Salt has a multitude of Wellbeing Bowl options, Ramirez says it's a concept that can easily be recreated at home. All one needs to do is assemble their favorite whole food ingredients and toss it together in a bowl — extra points for a stylish arrangement.
"It's really simple. You need to have a multi-grain, like a brown rice or quinoa with high fiber content because that's an important for nutrients. That promotes colon health," he said. "And I would suggest not doing the pre-made quinoas or brown rice. It takes a little more time to cook it, but it makes a difference."
Next, add a leafy green and preferred vegetables. Locally sourced options are even better, Ramirez says.
"It really doesn't matter what vegetable you use as long as it's not canned. It can be frozen, if it doesn't have any other ingredients in it, just the vegetable, because again we want to avoid the preservatives," he said. "The best way to cook it is just with water or steaming it. We blanch our vegetables then put them on the grill later."
Selecting a protein rounds out the bowl. That can be anything ranging from tofu to steak, but again, Ramirez stresses moderation.
"You don't need a 12 ounce steak for this," he said.
When the bowl is assembled, there's the option to eat it immediately or save it for later. That's something that can really help with meal planning.
"You can freeze it and it's fine … just grab it when you're ready," he said.
1/2 bunch cilantro, chopped
1 quart quinoa, cooked and chilled
1/4 cup extra virgin olive oil
Directions: Mix all the ingredients together in a bowl. Taste for correction on salt and pepper. Refrigerate in a sealed container. It can be stored for up to seven days. Enjoy cold.